Small Beginnings
The RG65 Class originated in South America where it was one of the most sailed model yachts for many years. Its development began in Argentina and dates back to 1950. Named after its developer Juan Gherzi and the hull length, the class was first called G65. The Class began as a free sailing class before the time of remote control. However, the key measurements, even then, were 65cm body length and 1m mast height.

The Advent of Radio Control
On the 24th of June, 1978 Raul Landó, launched his Lady Susan, free sailing, Braine steered G65 at the Plaza Urquiza pond in Buenos Aires Argentina,, but this time with radio installed! This became the very first Radio G65, that is, an "RG65". And Raul has held Sail Number "1" since then. At this time, and still in force today , the fundamentals of class rules were defined:-

No multi-hull constructions permitted


Hull length 65cm 0.5cm +/-


Mast height max. 110 cm above the deck


Sail area max. 0.225 m²​

Other restrictions do not exist. It is a development class.
Simple wooden chine boats are just as permissible as Carbon fiber lightweight hulls, with the displacement of most of the designs leveling off at around 1000g.

Invasion Europe

In Europe the class began to take hold around 1998. Naturally, the spread began in the Spain first, but there are now active RG65 fleets in England, Holland, Switzerland, France, Italy, Poland, Germany and Ireland.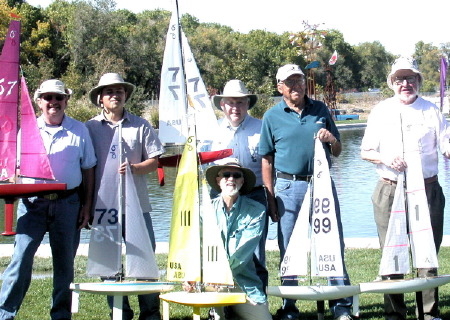 ​RG65 Comes to the USA

Fast forward 10 years to 2008, when Earl Boebert and Dick Lemke became interested in the Class and started talking about the boats. Earl's club, Duke City MYC in Albuquerque, adopted the Class and built a fleet of nine boats in a few months.

The first US RG65 regatta was hosted by DCMYC in 2008, and they continue to host their annual event called "The Rio Grande Cup". Since 2008, the Class has spread across North America.

Today there are several hundred owners and probably 1,000+ boats scattered throughout the U.S.